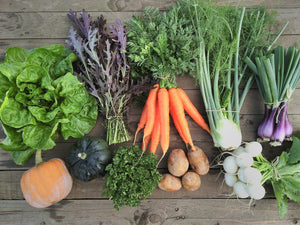 Please make sure to read the FAQ section for important details before purchase.
A Fall Share CSA basket is usually enough food to comfortably feed a veggie-loving couple, or a small family each week.
Our Fall Share CSA basket membership is 4 consecutive weeks and begins October 26th/29th. 
The Fall Share home delivery will be either Thursdays or Sundays. Once our fall registration is full we will let you know which day of the week your basket will be dropped off. Please ensure your email and/or phone number is correct during check out so we can contact you regarding your delivery day.

The cost for our Fall Share including home delivery is
$200
. 
The first two baskets will (weather permitting) have more items with fresh green tops and leafy greens and the last two a bit heavier, trying to stock you up with produce that stores well.
CSA Basket Memberships are non-refundable. Please read all of the FAQ and Terms and Conditions to ensure a CSA membership is right for you.
If you feel you cannot make the full payment at once please contact us to make arrangements for split payment.