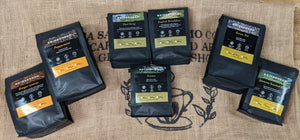 We have partnered this season with Bridgehead Coffeehouse in order to offer you delicious, Fair Trade, Organic tea along with your CSA basket. Simply select your bundle of choice and receive a 100g bag of ethical tea.
A fall share tea bundle is 4 bags of tea  - 1 bag for each week delivered along with your CSA basket.

The cost is $52 ($13/bag, includes delivery)
* Important Notes*
Coffee and Tea Bundles cannot be purchased separately without the purchase of a CSA membership.
During checkout please tell us the variety you would like in the comment box.
Varieties Available:
English Breakfast - A strong, full-bodied tea composed of 80% Assam tea, with its rich and malty liquor, lightened by a generous hint of fragrant Darjeeling tea. Serve with a drop of milk, at breakfast or anytime
 
Earl Grey - Our Earl Grey tea is an invigorating infusion of light, fragrant Darjeeling tea with oil from the peel of bergamot, a Canton orange.
 
Assam - A large leafed tea that gives top quality liquor with strong body and sparkle. Assam is the birthplace of Indian tea, and refers to the rolling plains both sides of the Brahamaputra River north of Bengal. Our Assam tea comes from a single garden, Banaspaty, in the Karbi Anglong Tribal District.


Green - This tea has a vegetal, floral taste in the Chinese tea style. Steep 2-3 minutes only and enjoy this beautiful green tea.

 
Jasmine Green - Jasmine Scented Green Tea offers a soft vegetal base and classic floral aroma and taste.